By Army Sgt. Frank Strumila, 3rd Battalion, 21st Infantry Regiment
The U.S. Army's 25th Infantry Division trained alongside their Australian counterparts during Talisman Saber 17, a multinational exercise held in Australia every other year. Troops from Australia, New Zealand, Canada, and Japan trained alongside Americans from all military branches.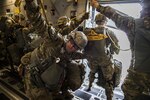 Published July 24, 2017 at 02:27PM.
(Continue reading at
https://www.defense.gov/News/Article/Article/1256077/soldiers-prove-mettle-readiness-in-talisman-saber/
)