By Army Staff Sgt. Aaron Duncan, U.S. Special Operations Command Europe
Exercise Black Swan 2017 was a Hungarian-led special operations forces exercise held June 26 to July 22 in locations across Bulgaria, Hungary and Romania. Designed to enable participants to rehearse and demonstrate integration between special operations and conventional forces to prepare for real-world contingencies, it included participants from over eight countries.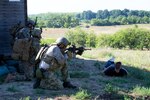 Published July 28, 2017 at 01:58PM.
(Continue reading at
https://www.defense.gov/News/Article/Article/1261348/special-operators-hone-skills-during-exercise-black-swan-17/
)