By Air Force Senior Airman Damon Kasberg
On a construction site at an undisclosed location here, all five senses are constantly bombarded. The sun scorches, gusting winds kick up sand and dirt, and deafening machines saturate the air with fumes. For combat engineers, this is an average day at work.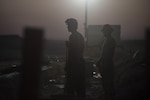 Published July 12, 2017 at 02:38PM.
(Continue reading at
https://www.defense.gov/News/Article/Article/1245431/tenacious-airmen-tackle-toughest-construction-jobs/
)